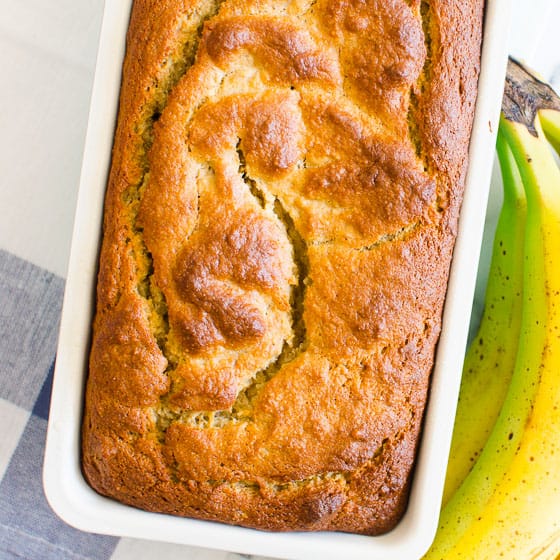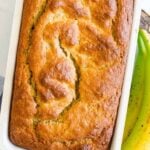 Almond Flour Banana Bread is a moist, melt in your mouth loaf your entire family will love! Paleo, low sugar and gluten free. Your kids will go bananas for it!
We eat grains, but absolutely love goodies with almond flour like almond flour banana muffins, almond flour waffles, plain almond flour muffins and almond flour pancakes.
Almond Flour Bread
This almond flour banana bread always disappears fast in my kitchen. It is moist, tender and melts in your mouth banana bread loaf.
Pin this recipe on Pinterest to save for later
Only lemon zucchini bread disappears faster. It's OMG crazy good. We fight for it. Anyways…
Let me preface by saying we do eat grains. I know some people are truly sensitive to gluten. For us, organic whole grains make vital part of our wholesome diet. I'm not a huge baker but I bake a lot of quick breads for healthy breakfast and snack ideas.
And even though we can eat whole wheat banana bread, I like to make almond flour banana bread too.
Ingredients for Almond Flour Banana Bread
Ripe bananas: 3 very ripe bananas – deep yellow colour with plenty of black spots on the outside. This makes or breaks the bread, basically. Just like in my healthy banana pancakes recipe.
Almond flour: Almond flour tastes different from any other flour. It is basically finely ground raw blanched almonds. It adds moist and that melt in your mouth texture, almost like a cotton candy. And yet it produces the most amazing "real" dessert. Just check out this almond flour brownie recipe – so much fudge is going on!
Sweetener: Use any liquid sweetener like maple syrup, honey, agave etc. I also tested this recipe with same amount of Lakanto monkfruit sweetener (erythritol). Taste was great!
Oil: Any mild tasting oil works.
How to Make Almond Flour Banana Bread
Detailed recipes card is located below.
Prep: I am convinced this bread rises better in metal loaf pan. Spray only bottom and lower 1″ to get a good rise.
Wet ingredients: Mash bananas and then add eggs, sweetener, oil, vanilla, cinnamon and leavening agents.
Measure flour properly: Fill each cup fully with a hill, do not pack and skim off top with butter knife. Stir until batter forms.
Bake for 50 mins in preheated 350 degrees F oven: Check with toothpick for doneness. Let cool for 10 minutes.
Tips, FAQs and Troubleshooting
Can I use different flour? No. The texture almond flour provides baked goods cannot be matched by any wheat, coconut or other gluten free flour.
Make sure your bananas are ripe: From my experience with almond flour banana muffins, I know some people use just yellow or even (scary to think) 50 shades of green bananas.
My bread is too wet and didn't rise: Make sure to use only 3 medium-large (1 cup mashed) bananas and I highly suggest metal baking loaf pan. I didn't have great results with ceramic or glass – bread caved in.
My bread isn't sweet enough: Probably because bananas were not very ripe. You can also add 2 more tablespoons of sweetener next time.
Paleo: The only thing that's not paleo in this banana bread is baking powder. You can make your own at home easy-peasy.
How to Store and Freeze
Storing: First 24 hours, we store banana bread on a counter right in the loaf pan covered with towel. After, I transfer any leftovers to resealable plastic bag to prevent it from drying. Bread stays fresh on a counter for up to 3 days. After you can refrigerate for another 3 days.
Freezing: Bake banana bread and cool completely. I recommend you do not slice bread before freezing. It retains its moisture better this way. Place in a gallon size Ziploc container, let out as much air as possible and seal. Freeze for up to 3 months.
Thawing and reheating: Defrost on a counter. Takes about 3-4 hours. Bread will taste just like freshly baked. Pop it into a toaster for a minute for that freshly baked bread warmth and aromas.
Enjoy this almond flour banana bread!
More Healthy Quick Bread Recipes
COOKING MODEPrevent your screen from going dark
3 medium-large bananas 1 cup mashed very ripe bananas with brown spots
3 eggs large
1/4 cup any sweetener
1/4 cup any mild oil or melted butter
1 tsp pure vanilla extract
1 tsp cinnamon
1 tsp baking soda
1 tsp baking powder
1/4 tsp salt
3 cups almond flour not almond meal
Preheat oven to 350 degrees F, line metal 9 x 5 loaf pan with parchment paper or leave non-stick as is. Spray only bottom and lower 1″ with cooking spray. Set aside.

In a large mixing bowl, add bananas and mash with a masher.

Then add eggs, sweetener, oil, vanilla, cinnamon, baking soda, baking powder and salt; whisk until combined.

Add almond flour and stir and mix gently with spatula to combine.

Pour batter into previously prepared loaf pan and bake for 50 minutes or until the toothpick inserted in the middle comes out clean.

Remove almond flour banana bread from the oven and transfer to a cooling rack to cool off for 10 minutes.

Remove bread from a loaf pan and let it cool another 10 minutes.

Slice with sharp serrated knife – works best with breads to keep them from falling apart.
Store: Store bread in an airtight container or bag in a cool dry place for up to 3 days. After refrigerate for another 3 days or proceed to freezing.
Freeze: Bake and cool completely. I recommend to freeze bread unsliced to retain moisture. Place in a gallon size Ziploc container, let out as much air as possible and seal. Freeze for up to 3 months. Thaw on a counter for a few hours.
Metal pan: I have way better success baking this bread in metal pan vs. ceramic. It rises better and is not as wet. I believe it is because nuts are high in fat and steam stays in the glass/ceramic pan more.
Oil: Any mild tasting oil like light olive oil, melted coconut oil, grapeseed oil will work.
Flour: You can't use ANY other flour besides almond flour. Has to be almond flour.
Add-ins: You can add up to 1/2 cup chocolate chips, nuts or blueberries (dust them in almond flour before adding to prevent from sinking in). I do not recommend to add things like chopped apple because almond flour is "wet".
Sweetener: I have successfully baked this bread with honey, maple syrup and even Lakanto monkfruit sweetener (erythritol). I think any dry or liquid sweetener works in same amount.
Mini loaves: I have not tried baking in mini loaves but I don't see a reason why not. I would try 30 mins bake time and do a toothpick test.
Baking is a science. For best results, it is best to follow the recipe. Enjoy!
Serving: 1slice | Calories: 309kcal | Carbohydrates: 23g | Protein: 9g | Fat: 23g | Saturated Fat: 5g | Cholesterol: 61mg | Sodium: 293mg | Potassium: 149mg | Fiber: 5g | Sugar: 13g | Vitamin A: 236IU | Vitamin C: 3mg | Calcium: 111mg | Iron: 2mg
Recipes and images are a copyright of ifoodreal.com. It is against the law to republish recipes anywhere including social media, print and all world wide web. Nutritional info is provided for informational purposes only and to the best knowledge.
<![CDATA[!function(){"use strict";(new class{constructor(){this.supportedSizes=[[728,90],[300,250],[300,600],[320,50],[970,250],[160,600],[300,1050],[336,280],[970,90],[300,50],[320,100],[468,60],[250,250],[120,240],[1,1],[300,300],[552,334],[300,420],[728,250],[320,300],[300,390]],this.lazyMaxMap={Recipe:5,Below_Post:1},this.locationToMinHeight={Content:"250px",Recipe:"250px"}}insertDivs(){if(!window.adthriveCLS.siteAds)return;if(window.adthriveCLS.disableAds&&window.adthriveCLS.disableAds.all)return;if(window.adthriveCLS.disableAds&&window.adthriveCLS.disableAds.reasons.has("content_plugin"))return;if(/Edg/i.test(navigator.userAgent)||!/Chrome/.test(navigator.userAgent)&&!/Safari/.test(navigator.userAgent)&&!/[Pinterest/iOS]/.test(navigator.userAgent))return;var e=this.deviceByBreakpoint(window.adthriveCLS.siteAds.breakpoints.tablet,window.adthriveCLS.siteAds.breakpoints.desktop),t=this.getDynamicAds(e);let i=[];for(var n=0;n0&&(s=o=window.innerHeight*a.spacing);for(var c=this.repeatDynamicAds(a),l=document.querySelectorAll(a.elementSelector),d=a.skip;dc.length);d+=a.every){var m=l[d];if(o>0){var h=this.elementOffset(m).bottom;if(h<=s)continue;s=h+o}var y=d1&&(o=0);y>0;y–){var u=c[r],p=u.location+"_"+u.sequence;if(window.adthriveCLS.injectedSlots.some((function(e){return e.name===p})))r+=1;else{var f="AdThrive_"+u.location+"_"+u.sequence+"_"+e,v="adthrive-"+a.location.replace("_","-").toLowerCase(),g=v+"-"+a.sequence,S=a.classNames||[];S.push(v,g);var w=this.addAd(m,f,a.position,S,u.location);if(w){var z=this.filterAdUnitSizes(u,w);if(z.length>0){var M={clsDynamicAd:a,dynamicAd:u,element:w,sizes:z,name:p,infinite:!1};window.adthriveCLS.injectedSlots.push(M),i.push({location:u.location,element:w}),r+=1}m=w}}}}}i.forEach(({location:e,element:t})=>{t.style.minHeight=this.locationToMinHeight[e]})}addAd(e,t,i,n,a){if(!document.getElementById(t)){var o=[']]>'].join("");e.insertAdjacentHTML(i,o)}return document.getElementById(t)}repeatDynamicAds(e){for(var t=[],i=e.lazy&&this.lazyMaxMap[e.location]?this.lazyMaxMap[e.location]:0,n=Math.max(e.min,e.max),a=0===i&&e.lazy?n+e.lazyMax:Math.min(Math.max(i-e.sequence+1,0),n+e.lazyMax),o=Math.max(n,a),s=0;s=n,l=Object.assign({},e,{sequence:r,lazy:c});l.sequence=r,l.lazy=c,t.push(l)}return t}getDynamicAds(e){return window.adthriveCLS.siteAds.adUnits.filter(e=>e.dynamic&&e.dynamic.enabled&&window.adthriveCLS.enabledLocations.indexOf(e.location)>=0).map(e=>({location:e.location.replace(/s+/g,"_"),sequence:e.sequence||1,sizes:this.supportedSizes.filter((function(t){return e.adSizes.some((function(e){return t[0]==e[0]&&t[1]==e[1]}))})),devices:e.devices,pageSelector:e.dynamic.pageSelector?e.dynamic.pageSelector.trim():"",elementSelector:e.dynamic.elementSelector?e.dynamic.elementSelector.trim():"",position:e.dynamic.position?e.dynamic.position:"beforebegin",min:Math.floor(e.dynamic.min?e.dynamic.min:0),max:Math.floor(e.dynamic.max?e.dynamic.max:0),spacing:e.dynamic.spacing?e.dynamic.spacing:0,skip:Math.floor(e.dynamic.skip?e.dynamic.skip:0),every:Math.max(Math.floor(e.dynamic.every?e.dynamic.every:1),1),classNames:e.dynamic.classNames?e.dynamic.classNames:[],sticky:e.sticky,stickyOverlapSelector:e.stickyOverlapSelector?e.stickyOverlapSelector.trim():"",autosize:e.autosize,special:(e.targeting?e.targeting:[]).filter(e=>"special"===e.key).reduce((e,t)=>e.concat(…t.value),[]),lazy:!!e.dynamic.lazy&&e.dynamic.lazy,lazyMax:e.dynamic.lazyMax?e.dynamic.lazyMax:2})).filter((function(t){var i=-1!==t.devices.indexOf(e),n=0===t.pageSelector.length||null!==document.querySelector(t.pageSelector),a=document.body.classList.contains("adthrive-disable-all"),o="Recipe"!==t.location&&"Content"!==t.location||!document.body.classList.contains("adthrive-disable-content");return i&&n&&o&&!a}))}deviceByBreakpoint(e,t){const i=window.innerWidth;return i>=t?"desktop":i>=e?"tablet":"phone"}elementOffset(e){const t=e.offsetHeight,i=e.offsetWidth,n=e.getBoundingClientRect(),a=document.body,o=document.documentElement,s=window.pageYOffset||o.scrollTop||a.scrollTop,r=window.pageXOffset||o.scrollLeft||a.scrollLeft,c=o.clientTop||a.clientTop||0,l=o.clientLeft||a.clientLeft||0,d=Math.round(n.top+s-c),m=Math.round(n.left+r-l);return{top:d,left:m,bottom:d+t,right:m+i,width:i,height:t}}elementInnerWidth(e){let t=e.clientWidth;if(getComputedStyle){const i=getComputedStyle(e,null);t-=parseFloat(i.paddingLeft||"0″)+parseFloat(i.paddingRight||"0″)}return t}filterAdUnitSizes(e,t){var i=this.elementInnerWidth(t),n=e.sticky&&"Sidebar"===e.location;return e.sizes.filter((function(t){var a=!e.autosize||(t[0]t.skip?o.elements[t.skip]:null:null}}new class{constructor(e){this._config=e,this._jwPlaylistIds=[],this._autoplayPlayerAdded=!1,this._IN_POST_SELECTOR=".adthrive-video-player",this._wrapperBarHeight=36,this._device=/Windows NT|Macintosh/i.test(navigator.userAgent)?"desktop":"mobile"}init(){const e="classList"in document.createElement("_");window.adthriveCLS.siteAds&&!window.adthriveVideosInjected&&e&&!/Edg/i.test(navigator.userAgent)&&(/Chrome/.test(navigator.userAgent)||/Safari/.test(navigator.userAgent)||/[Pinterest/iOS]/.test(navigator.userAgent))&&this._initializePlayers()}_initializePlayers(){this._initializeInPostPlayers(),this._shouldRunVideo()&&("desktop"===this._device?this._config.video.desktopCollapseSettings&&this._config.video.desktopCollapseSettings.enabled?this._initializeAutoplayCollapsePlayer(this._config.video.desktopCollapseSettings):this._config.video.sekindoDesktopSettings&&this._config.video.sekindoDesktopSettings.enabled&&this._initializeSekindo(this._config.video.sekindoDesktopSettings,320,250,!1):this._config.video.mobileCollapseSettings&&this._config.video.mobileCollapseSettings.enabled?this._initializeAutoplayCollapsePlayer(this._config.video.mobileCollapseSettings):this._config.video.sekindoMobileSettings&&this._config.video.sekindoMobileSettings.enabled&&this._initializeSekindo(this._config.video.sekindoMobileSettings,340,260,!1))}_initializeInPostPlayers(){const e=document.querySelectorAll(this._IN_POST_SELECTOR);let i="static";this._config.video.contextualSettings&&(i=this._config.video.contextualSettings.defaultPlayerType);for(let s=0;s
<![CDATA[ "use strict";var _createClass=function(){function defineProperties(target,props){for(var i=0;i <![CDATA[ (function() { "use strict";var e=function(){function n(e,t){for(var r=0;r <![CDATA[window.lazyLoadOptions={elements_selector:"img[data-lazy-src],.rocket-lazyload,iframe[data-lazy-src]",data_src:"lazy-src",data_srcset:"lazy-srcset",data_sizes:"lazy-sizes",class_loading:"lazyloading",class_loaded:"lazyloaded",threshold:300,callback_loaded:function(element){if(element.tagName==="IFRAME"&&element.dataset.rocketLazyload=="fitvidscompatible"){if(element.classList.contains("lazyloaded")){if(typeof window.jQuery!="undefined"){if(jQuery.fn.fitVids){jQuery(element).parent().fitVids()}}}}}};window.addEventListener('LazyLoad::Initialized',function(e){var lazyLoadInstance=e.detail.instance;if(window.MutationObserver){var observer=new MutationObserver(function(mutations){var image_count=0;var iframe_count=0;var rocketlazy_count=0;mutations.forEach(function(mutation){for(i=0;i0||iframe_count>0||rocketlazy_count>0){lazyLoadInstance.update()}});var b=document.getElementsByTagName("body")[0];var config={childList:!0,subtree:!0};observer.observe(b,config)}},!1)]]>

Source